Rhonda Lennon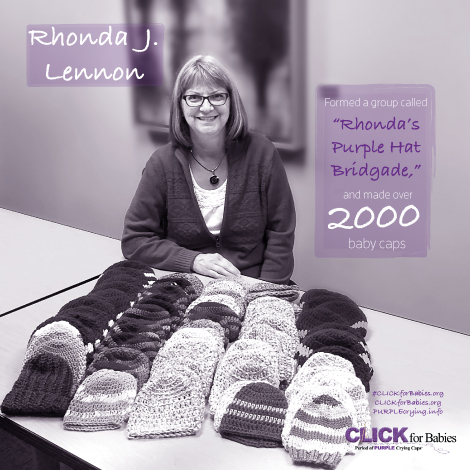 Rhonda Lennon
Rhonda Lennon (Seattle, WA) started crafting caps for the CLICK for Babies campaign in 2013. In her first year Rhonda and her aunt crafted 100 caps. Over the last two years Rhonda has recruited additional crafters to form Rhonda's PURPLE Hat Brigade. Rhonda and her brigade have crafted over 2,000 caps for the 2015 campaign year.
"I have many campaigns close to my heart, but these are little babies that need our help. It is all about EDUCATION and AWARENESS. Education is a powerful tool," Rhonda said. "All of my brigade has fliers that I have created to give out when the public asks, 'Why are you making purple baby hats?' We are getting the word out there. I am blessed to have so many helpers on this project."
Thank you, Rhonda and her many volunteers for spreading the word about the Period of PURPLE Crying through the CLICK for Babies campaign.