Linda Lounsberry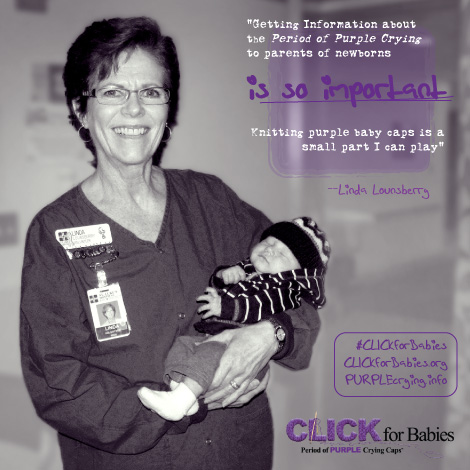 Linda Lounsberry has been a NICU volunteer in Cedar Rapids, Iowa for 18 years and she recently received the Governor's Volunteer award.
"I appreciate Linda so much, both when I'm working in the NICU and when I need purple caps! Her passion for babies is evident in everything she does." said Denise Easley, who is a NICU nurse and also coordinates the CLICK for Babies campaign for the state of Iowa.
For last year's campaign, Linda was able to donate yarn and single handedly turned in 138 caps.
"I have a passion for babies. I want them all to be healthy and safe," Linda said. "CLICK for Babies creates awareness about shaken baby syndrome. Getting information about the Period of PURPLE Crying to parents of newborns is so important. Knitting purple baby caps is a small part I can play."
Thank you, Linda for all you have done for the CLICK for Babies campaign and to keep babies safe from harm!