In The News
---
Raising Funds for Cute Babies in PURPLE Hats
King 5 Evening, Seattle, Washington
2/19/2016
Protecting cute babies in purple hats is uniting two generations of women living miles apart. They won't meet or mingle, but their partnership will save lives. Throughout the Kappa Delta House at the University of Washington, sorority sisters plan fundraisers to help new parents cope.
Click here to read the whole story.
---
Knitters Gather to Educate Parents about Crying Babies
Legacy Health, Oregon
1/2016
In a new series of ads, Legacy Health celebrates the work we do in the community with the help our partners. We highlight a partnership with volunteers who knit purple caps to remind parents about the Period of PURPLE Crying to prevent Shaken Baby Syndrome. About two years ago, Mary Zellhaire was looking for a volunteer project. She found CLICK for Babies, a program that creates thousands of purple caps for babies to wear as a reminder to their parents about the Period of PURPLE Crying. From two weeks to four months old, it is normal for babies to cry a lot. The program teaches parents about this developmental stage – and helps to prevent Shaken Baby Syndrome.
Click here to read the whole story.
---
Knitting Love
Alberni Valley News, British Columbia
12/10/2016
More than 60 newborns in B.C. will feel the love from a group of Alberni Valley knitters this year. CLICK for Babies, now in its sixth year, brings the conversation around shaken baby syndrome beyond new and expectant parents and into the broader community. It complements the Period of Purple Crying Program delivered in public health units and maternity wards, which teaches parents to understand normal crying patterns. The campaign seeks volunteers throughout the province to knit purple caps that are then provided to newborns across BC during the colder months of November and December. More than 7,500 caps had been donated by October.
Click here to read the whole story.
---
Caps Knitted by Retirees Aim to Prevent Shaken Baby Syndrome
Billings Gazette, Billings, Montana
10/16/2015
The 183 hats knitted by a dozen Billings women and donated to both Billings hospitals on Friday weren't made just to keep infants' heads warm. They're also designed to keep them healthy by educating their families and the public about shaken baby syndrome. "If we can help just one baby by preventing it from getting shaken, it's worth it," said Florence Massey, a member of the Kniffty Knitters group at Aspen View Retirement, which made and donated all the hats.
Click here to read the whole story.
---
Kiwanis Club "Knits" to Help Educate Parents to Prevent Infant Abuse
Parsippany Focus, Parsippany, New Jersey
10/17/2015
Volunteers and friends of Kiwanis Club of Greater Parsippany participated in "Click Your Knitting Needs Together, To Prevent Infant Abuse." They knitted and crocheted caps that are given to baby boys and girls in November and December to help educate parents about the "Period of Purple Crying," a normal, but frustrating period of increased crying all infants experience in the first few weeks and months after birth.
Click here to read the whole story.
---
KCSL Gets Word Out About "PURPLE Crying"
KVOE, Kansas
10/1/2015
Kansas Children's Service League is wrapping up a special effort to raise awareness about shaken baby syndrome and what's known as "the period of purple crying." Director Bev Long joined KVOE's Morning Show on Thursday to get the word out about both items and to issue a late reminder for folks knitting purple caps to get those to the Emporia Public Library for pickup and delivery to the Wichita office Friday. Long said "purple crying" refers to a time when a baby will cry -- a lot -- and can't be consoled.
Click here to read the whole story.
---
Purple Hats Serve As Reminder
Black Burn News, London, Ontario
9/29/2015
The Children's Hospital is looking to collect knit or crochet purple caps for newborns to remind parents to be patient as their baby cries. The colour of the cap represents the Period of PURPLE Crying, described as a prolonged period of inconsolable crying. The hats serve as a reminder to never shake a baby, no matter how long they have been crying for.
Click here to read the whole story.
---
Safe Kids: Teens Knit Caps for Infant Abuse Prevention
NH Children's Trust, Raymond, New Hampshire
5/19/2015
Teen students are taking a stand against child abuse to make a difference in the lives of NH babies. At Raymond High School, members of the Jobs for America's Graduates (JAG) program have taken on the Period of PURPLE Crying®'s campaign to CLICK for Babies. As the school year comes to a close, male and female students are knitting purple hats for infants to receive in the hospital when they're born.
Click here to read the whole story.
---
CLICK for Babies Campaign provides assistance to parents, families
West Hartford News, Hartford, CT
8/5/2015
The Connecticut Office of Early Childhood (OEC) is kicking off its participation in the nationwide CLICK for Babies campaign organized by the National Center on Shaken Baby Syndrome (NCSBS) in partnership with hospitals, public health and child abuse prevention groups to create awareness of the leading trigger for infant abuse, frustration with infant crying. The OEC and community organizations will be collecting and distributing purple handmade caps across the state to new parents through December. In addition, a series of community events in August and September will help educate parents about infant crying and the dangers of infant abuse.
Click here to read the whole story.
---
Legacy calls on knitters, crocheters to make purple infant hats
The Columbian, Vancouver, WA
8/5/2015
Randall Children's Hospital at Legacy Emanuel is asking volunteers to knit and crochet purple hats to raise awareness for shaken baby syndrome.
The Click for Babies: Period of Purple Crying Caps campaign invites knitters and crocheters to make purple baby caps that will be mailed to more than 40 hospitals and public health clinics throughout Oregon and Southwest Washington in November and December.
Click here to read the whole story.
---
Office of Early Childhood to participate in CLICK for Babies campaign
The Bulletin, Norwich, CT
8/3/2015
The state Office of Early Childhood recently kicked off its participation in the national CLICK for Babies campaign, organized by the National Center on Shaken Baby Syndrome, to create awareness of infant abuse and its leading cause: frustration with a crying infant.
Click here to read the whole story.
---
Click For Babies 2015 campaign kicks off in Portland
Oregon Live, Portland, OR
8/1/2015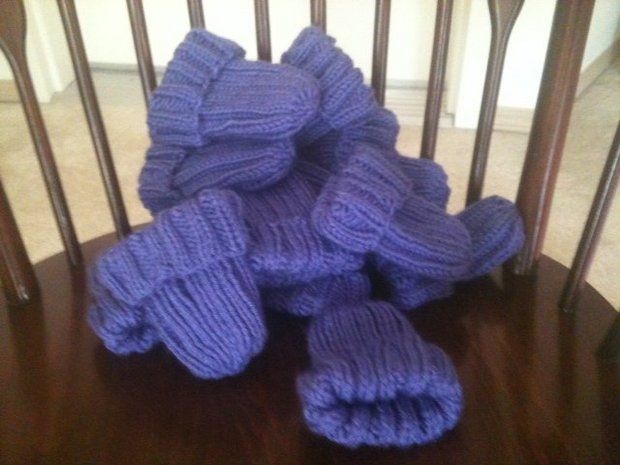 This year, the hospital's collecting hats again, and it's added a twist: Campaign leaders want to spread knowledge of PURPLE crying, so that in addition to making hats, crafters can answer the question "What is the period of PURPLE crying?" As crafters learn about PURPLE, we can spread the word ourselves, to help the campaign with its ultimate goal: to spur a cultural change in the way entire communities understand infant crying. This, the hospital says, is a proven way to prevent the tragedy of shaken baby syndrome.
Click here to read the whole story.
---
Hats delivered, on to the next
My Central Jersey, New Brunswick, NJ
7/28/2015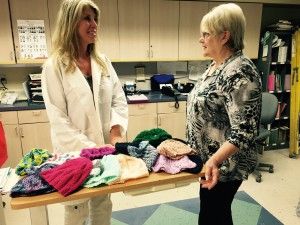 ...PURPLE stands for the special sort of persistent inconsolable crying crying that some babies do between 2 and 6 months old. This crying, which is normal, is so frustrating to parents that sometimes they shake the baby, causing permanent harm. So the National Center for Shaken Baby Syndrome hands out educational materials to parents of newborns about this problem, and with each packet, they like to include a handmade knitted or crocheted purple baby hat. Their partner here in the Garden State is Prevent Child Abuse New Jersey.
Click here to read the whole story.
---
Bend knitters 'Click for Babies'
KTVA, Bend, OR
7/23/2015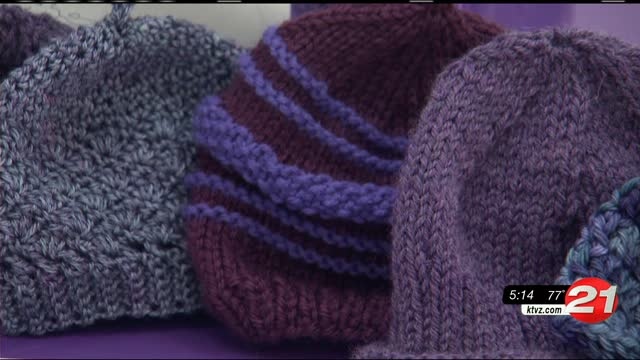 Bend's Stone Lodge Retirement Center helps knit, gather purple caps for babies, to be given to new parents as a reminder: Don't shake your crying baby.
Click here to read the whole story.
---
Local Seniors Knit Purple Hats to Fight Shaken Baby Syndrome
KULR, Billings, MT
7/20/2015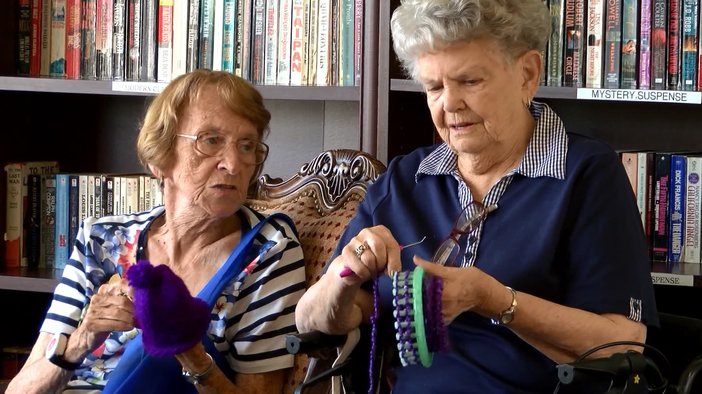 Women at a local senior home are knitting for a good cause. They are making purple hats for newborns to help raise awareness about shaken baby syndrome.
"Crying is a normal developmental phase but it is really frustrating for caregivers. What we are teaching them is to set the baby in a safe place and then walk away. Go to the next room, take a deep breath, go outside on your porch, get a glass of water, do something to regroup and then go back in," said Judy Edwards, executive director of Healthy Mothers, Healthy Babies.
Click here to read the whole story.
---
Knit-ins to raise awareness about shaken baby syndrome
KWWL, Cedar Rapids, Iowa
7/11/2015
Knitters from Cedar Rapids and surrounding communities are encouraged to gather and knit purple hats for distribution at Iowa birthing hospitals in November. The caps will be given to babies along with materials to educate new parents about infant abuse, and that crying during the period of PURPLE is normal, and it is never okay to shake or harm an infant.
Click here to read the whole story.
---
Purple Baby Hats Help Stop Shaken Baby Syndrome
My Central Jersey, Somerville, NJ
9/12/14
"The Somerset County Library System is collecting knitted and crocheted baby hats made with purple yarn at all 10 of its branches during the month of September. The hats are part of a grassroots campaign to educate new parents about the dangers of shaking their baby out of frustration if the baby cries inconsolably.
Hoyer explained that in New Jersey, that hats are collected and distributed by Prevent Child Abuse NJ in New Brunswick, and that Robert Wood Johnson University Hospital is one of the participating hospitals in the educational program."

Click here to read the whole story.
---
Knitters, crocheters invited to take part in Click for Babies
Topeka Capital-Journal, Topeka, KS
8/6/14
The baby caps, which will be collected by the Kansas Children's Service League, will be distributed to new parents at participating hospitals across Kansas in November and December. The purpose of the caps is "to start conversations about both normal infant crying and the dangers of shaking," Taylor said in a news release.

Click here to read the whole story.
---
Knitters needed to make hats for babies
Fox 23, Tulsa, OK
6/19/14
"We encourage clubs and community groups that knit and crochet to join this effort," said Ann Benson of the Maternal and Child Health Service at the Oklahoma State Department of Health. Benson helps lead the Injury Prevention Workgroup of Oklahoma's "Preparing for a Lifetime, It's Everyone's Responsibility" initiative to reduce infant deaths in the state. The Period of PURPLE® Crying and"CLICK for Babies"are two of the workgroup's projects. This marks the third year that Oklahoma is participating in the campaign with the National Center on Shaken Baby Syndrome and other partners throughout North America.

The need for Oklahoma volunteers to knit the brightly colored infant caps is emphasized by sobering statistics provided from the Oklahoma Child Death Review Board. "Our review of 10 years of child homicide data noted more than 75 percent of physical abuse deaths in Oklahoma's children were caused by abusive head trauma," said Lisa Rhoades, program manager for the board.

Click here to read the whole story.
---
Caps for Babies educate about Purple Period of Crying
Great Falls Tribune, Great Falls, MT
6/19/14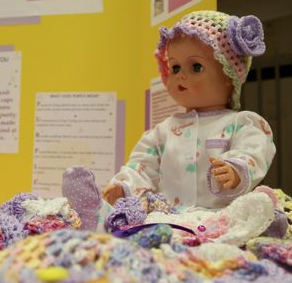 "Public health nurse Rayna Joshu said she often educates expectant and new parents about what to expect when their babies cry. Joshu and Marcia Ward, both registered nurses with the maternal and child health staff at Cascade City-County Health Department, said they spend a lot of time educating about parenting and tailoring their lessons to the client.

"I try to tell families it happens to everyone; everyone feels overwhelmed," Joshu said.

New parents are taught to expect a period of peak crying when the babies reach an age of about 2 months, when some babies may cry five to six hours at a time."

Click here to read the whole story.
---
Click for Babies 2014 purple hat campaign launches in Portland
Oregon Live, Portland, OR
05.27.2014 | 11:00:00 AM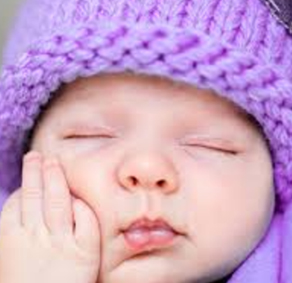 It's a little project with huge consequences. The hats help teach new parents about PURPLE crying, the normal but exhausting, frustrating and downright scary developmental phase infants go through and parents must endure. It's the period when a child cries long and loud, for no reason that can be discerned. It's hard on babies, harder still on parents. And it's the No. 1 trigger for the shaking and abuse of infants. Roughly 80 percent of all infants who are shaken suffer significant brain injuries, and more than 30 percent die. And purple hats can help prevent it.

Click here to read the whole story.
---
Knitters click to recognize shaken baby syndrome
Standard-Examiner, Farmington, UT
05.23.2014 | 09:28:00 AM MST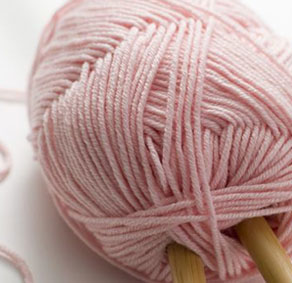 Shaken baby syndrome is the most common and most dangerous form of abuse in children under one. Approximately 80 percent of all infant who are shaken suffer significant brain injuries and upwards of 30 percent die as a result of their injuries.
This summer, knitters across Utah and the nation will be clicking their knitting needles together to make purple colored baby caps for the CLICK for Babies, Period of PURPLE Crying Caps campaign. The campaign aims to raise awareness about normal infant crying and the prevention of Shaken Baby Syndrome and Abusive Head Trauma.

Click here to read the whole story.
---
T​ouched by tragedy, Dracut grandfather works to stop shaken-baby deaths
The Valley Dispatch, Dracut, MA
05.18.2014 | 03:37:39 PM EDT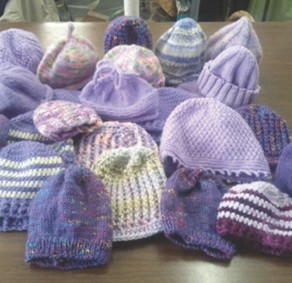 When Bob Logan's 6-month-old grandson, Devin, died of a severe brain injury in 2005 as a result of being shaken in a fit of rage by the baby's father, it would have been easy for Logan to remain angry for life and do nothing. Instead, he turned his tragedy into a mission to prevent other babies from suffering the same fate.
"I have an opportunity to help reach people, directly and indirectly, who may not know that it's not OK to shake a baby," Logan said from his Bridle Path Road home.

Click here to read the whole story.